Chiropractor Adam Wadel D.C.
Dr. Adam's life mission is to create a healthier, happier, more peaceful world. By teaching the truth of Chiropractic and sharing it's gifts, his intention is to awaken ALL to the true nature of their being, a Self-Healing, Self-Organizing, strong vibrant entity.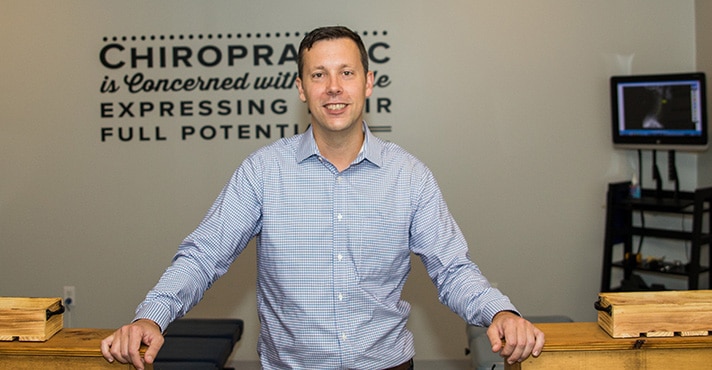 Dr. Adam B. Wadel graduated from Wheaton College in Norton, MA in 1998. While there he recieved his BA in Comparative Religious Studies, as well as enjoyed a successful and decorated collegiate lacrosse career.
After working in the corporate world for many years, Dr. Adam felt there had to be more to his life. Through his own personal journey and intense longing to help others, he found his calling...an avenue that allows him to serve humanity in a capacity that promotes a healthy, drug free lifestyle...Chiropractic!
A graduate from Life University College of Chiropractic in Atlanta, GA. Dr. Adam was honored with the Certificate of Merit in "Belief Systems and Performance". He participated in multiple Chiropractic Mission trips as a student to India as well the Dominican Republic. A passionate chiropractor and healer, he is excited to be back on the South Shore of Boston where he has lived his entire life. His hope and intention is to serve Chiropractic to the families of the South Shore and in so doing help them live happier, healthier and more prosperous lives.
---
Associations & Memberships
Massachusetts State Board Licensed Chiropractor
Massachusetts Alliance of Chiropractic Philosophy
International Chiropractic Association
OFFICE HOURS
---
Monday
8:00am - 1:00pm
3:00pm - 6:00pm
---
Tuesday
3:00pm - 6:00pm
---
Wednesday
8:00am - 1:00pm
3:00pm - 6:00pm
---
Thursday
8:00am - 1:00pm

---
Friday
Closed
---
Saturday
Closed